Harune Aira
Name
Harune Aira
Age
14 years old

Gender

Bloodtype

Birthday

Female

B (Negative)

March ?, 1997

Characteristics
Eyes
Red
Hair
Red
Special Features
Great sense of fashion
Relationships
Family

Hiroshi Harune (Father)

Omi Harune (Mother)

Itsuki Harune (Brother)

Uru & Eru Harune (Sisters)

Debut
Manga Debut
Chapter 1
Anime Debut
Episode 1
Voice
Japanese Voice
Kana Asumi
Aira is junior high school girl who one day was scounted by a man named Jun to be a Prism star. She is not very good a sports and is sometimes very clumsy.Aira always tries to look at the bright side and is a huge fan of Mion. In the first episode, Aira completed her Prism Jump, Fresh Fruit Basket.
Personality
Aira is a typical girl, who loves fashion, shopping and cute things. She's also really clumsy and often stumbles. At first she had a bad balance but after the ramen-lesson, in episode 3, it got better.
History
Aira is an ordinary girl, who lives with her parents and siblings together, her parents own a cake shop and want Aira to take over the shop someday.
One day while she was shopping, she discovers the shop "Prism Stone". She sees a dress and imagines to wear it, while she dreams she runs into Rhythm Amamiya. After Rhythm dissapeared, a man named Jun asked her to come with him, and forces her to participate in the "Prism Show". At the show she also meets Rhythm again.
During the show, Aira was unable to move, so Rhythm did the whole dancing, but the crowd wasn't satisfied, suddenly Airas costume started to sing to her and she starts dancing. Suprisingly she manages to make a "Prism Jump", called Fresh Fruits Basket. At the end she fell into one of the "Callings" called Shou and he kissed her on the forehead, also saying she was amazing.
Later both, Aira and Rhythm get a scholarship for the dance school to learn to perform professionally. There she meets Rabit-Chi her coach. Aria thinks that her heart beats for Shou because he is the designer of her favorite clothes shop but she only thinks. It is unknown if she begins to realize that she may actually have love feelings for him. For example, in episode 18 she is shown to be creating a relationship with Shou.
Appearance
Aira has red, long hair and red eyes. She keeps her hair down and long, while during the times she does a Prism Show she has her hair in a high ponytail. She often wears cute and girly clothes.
Prism Shows
Debut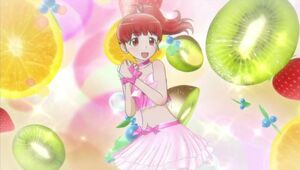 In her first Prism Show, Aira was unable to move, then suddenly her costume started to sing and Aira performed without realizing it. She also manages to perform a Prism Jump, which she called "
Fresh Fruits Basket"
.